Swiss gig break off
To our friends and fans who came to our show in Dietikon, Switzerland on May 6 --
We were very excited to perform for the first time at Sounddock 14. We were equally disappointed that due to technical difficulties at the club, the show had to be canceled.
You came to listen – we came to play!
Unfortunately it didn't work out that night but we are trying to reschedule the show and hope to return to the Zurich area this Summer. Thank you for understanding and for being so patient in a difficult situation. It was also a pleasure to meet many of you at the venue.
Hope to see you again soon!
Sincerely, The Hooters.
New EP
The new five-track EP entitled Five by Five is short to be released. It holds
three new songs and Hooterized versions of two classics. Keep your eyes open as one track will be up for free download soon.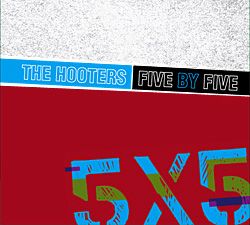 Hooters touring successfully in Germany
Now the time has come and tour bus is rolling trough Germany.
First three stations Cham, Losheim and Bochum are done and the shows are rocking inspiring again.
Two new songs are with them on the road and the setlist is in new and refreshing order.
The new song sung in German called "pissing in the Rhine" surprises already as starter of the show.
The new 5 Track EP is on its way to be released and it will have new songs and old ones which never were officially recorded by the band.
Release date will be announced shortly.
As the concerts move on you will find the gallery filling up with more and more new impressions.
Old pictures are currently taken down for construction reasons and will be online again shorty.
Don't miss out to visit the forum and connect with other fans.
See you on tour
Welcome
A very warm welcome to all Hooters friends and fans
The new Hooters Fan website is being created on this platform and will fill up with information and life now.
If you have some ideas or requests to make it even better, let us know.
A big thank you to Formicula who helped a lot with the new webtemplate and
has a lot of nerves to explain them ;-)
Your Hooters Fan
Nadja